With Music City in the taillights, I-65 quickly turns back into the rolling hills of the southern countryside, but that doesn't mean there's nothing to see just minutes from the highway. This guide to I-65 from Nashville to Birmingham is filled with charming towns loaded with southern hospitality, more than one giant NASA rocket, and even a bizarre art installation of miniature replicas of the world's most famous buildings. Here is your guide to the very best things to see, do, and eat between Nashville and Birmingham on I-65:
Sing the praises of Music City as you roll out of town. Hopefully, you've had your fill of bushwhackers, hot chicken, and live country music! Or, if you're following this guide backwards, get ready for a down-home good time. Explore the nightlife along Broadway, the restaurants and boutiques of East Nashville, and the history and attractions downtown!
True, blue southerners often lament about Nashville going corporate or being too touristy… Waylon Jennings's son, Shooter, even wrote that "They built Music City by sacrificing soul." Thankfully, that southern soul is still alive and well just a few miles south in the quaint town of Franklin, Tennessee. Just hop off I-65 at Exit 65 and come ready to eat, shop, and snap pictures of the classic Victorian buildings and brick sidewalks. The little eateries are perfect examples of the small-town Americana vibe that Franklin gives off, and the town's picture-perfect Main Street is like something from a postcard.
212 S Margin St, Franklin, TN, US
The Shoppes on Main may be where you buy a family member a nice gift, but Carpe Diem is where you buy yourself something funky. It's Williamson County's only record store, but LPs aren't the only thing you'll find here. If you're looking for something cool and funky like a vintage camera or a retro article of clothing, Carpe Diem should be on your list of places to stop.
94 E Main St, Franklin, TN, US
For those of you wanting a little coastal cuisine, try Puckett's Boat House up the street for raw Apalachicola oysters and grouper from down at the Gulf Coast.
114 E Main St, Franklin, TN, US
Have a soft spot for bookstores? Then Landmark Booksellers is well worth a quick stop. The building itself, originally known as the "Old Factory Store" has had some pretty famous visitors like Andrew Jackson, Sam Houston, and even Davy Crockett. It even saw its fair-share of the Civil War's wounded as a makeshift hospital. Today, you can read a book about the Civil War right from a building involved in it. With 60,000+ new and used books (including 1,500 signed first editions) you're bound to find something to read here.
332 Main St, Franklin, TN, US
If you want a hip place that combines its unique history with great local food, live music, and handcrafted cocktails, Gray's On Main is the place for you. Set in beautifully restored 1876 building where the Gray Drug Co. pharmacy once operated, Gray's pays homage to their roots from the striking vintage sign outside to the 19th-century inspired drinks. Just take it easy on those cocktails… Remember, you're on a road trip…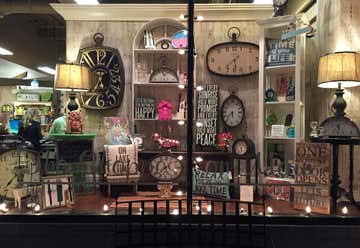 413 Main St., Franklin, TN, US
A co-op of 5 boutiques, the Shoppes on Main is a great place if you don't have time for an all-day shopping tour of Franklin. They have pretty much everything imaginable… home decor, clothes, baby stuff, gifts, candles, bath and body stuff. Maybe that's why Southern Exposure Magazine keeps recognizing them with their Sizzle Awards for Williamson County.
110 4th Ave S, Franklin, TN, US
For baked goods that will blow your mind, make a stop at Merridee's. Like so many places in Franklin, Merridee's Breadbasket has earned a lot of accolades from Southern Living Magazine, the Food Network, and more. Everything is made from scratch, and it shows in the taste. Oh my, just think about eating a slice of this pie…
120 4th Ave S, Franklin, TN, US
Few restaurants open more than one location in a community and still stay true to their roots. Puckett's Grocery & Restaurant is one of them. Despite expanding into Nashville and Columbia, owner Andy Marshall has kept true to his vision of providing good southern food paired with good music. Blending authentic comfort food with a modern, upscale twist, everything on the menu is to die for!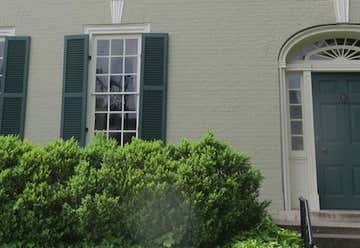 W 7th And S High Sts, Columbia, TN, US
Hopefully you already knew James K. Polk was a U.S. president (the 11th, to be precise). We don't talk a lot about him, but he did a lot… started the Naval Academy, got the ball rolling on the Washington Monument, added 3 states, and even issued the first postage stamp. You can learn even more about him and feel like a well-educated American by making a stop at the James K. Polk Home. The guided tour only takes 30 minutes. Why not stop? You never know when a Polk question is going to pop up on Jeopardy.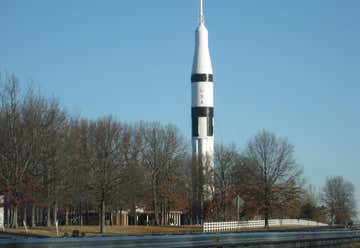 28232 Upper Elkton Rd, Elkmont, AL, US
Pretty much all state welcome centers and rest areas have the same stuff… Vending machines, bathrooms, people letting their dogs pee in the grass. The Alabama Welcome Center off I-65 just happens to also have a giant freakin' rocket-- you can't drive past without noticing it. The rocket is a Saturn I-B, a predecessor to the massive Saturn Vs we used to land on the moon. Take a picture, stretch the legs, and then hit the road, for even more awesome NASA stuff is in your near future…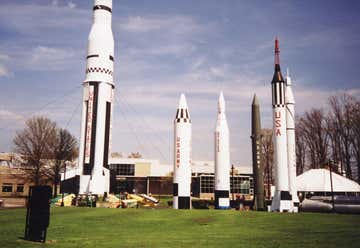 1 Tranquility Base, Huntsville, AL, US
If you grew up dreaming of going to Space Camp but never got to attend, here's your chance to get there as an adult. The US Space and Rocket Museum (Home of Space Camp) in Huntsville, AL is the best space exploration experience you'll get outside of Kennedy Space Center. For starters, you'll get to see one of only 3 remaining Saturn V rockets. If you've never seen one in person, prepare to be amazed.
A walk through the Rocket Park will also have you in awe as you gaze up at 27 missiles and rockets. Finally, you'll also get to see the world's only space shuttle with its solid rocket boosters and external fuel tank still attached. Of course, the museum exhibits are also awesome. Budget lots of time for a stop here because you won't want to rush. This is one Alabama attraction you want to give plenty of time to.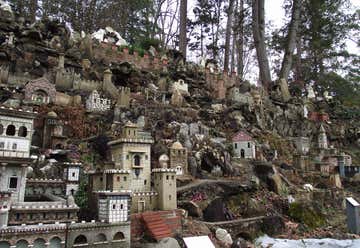 1600 St. Bernard Drive SE, Cullman, AL, US
Even after 80 years, one monk's weird little hobby, known as the Ave Maria Grotto, still amazes people:
Known throughout the world as "Jerusalem in Miniature," Ave Maria Grotto is a beautifully landscaped, four-acre park designed to provide a natural setting for the 125 miniature reproductions of some of the most famous historic buildings and shrines of the world. The masterpieces of stone and concrete are the lifetime work of Brother Joseph Zoettl, a Benedictine monk of St. Bernard Abbey. Begun as a hobby, working with various materials he could find, infinite patience and a remarkable sense of symmetry and proportion, Brother Joseph re-created some of the greatest edifices of all time... and you can see them all for yourself!
Finally, cruise I-65 until you reach Birmingham. This Southern city is brimming with soul! Attractions in Birmingham include the Civil Rights Institute, the Southern Museum of Flight, and Barber Vintage Motorsports. There's plenty of great eating in town as well, but definitely don't miss Saw's BBQ. And, if you need a nice hotel in Birmingham, look no further than the city's coolest boutique accommodation option, Hotel Highland.
As I-65 makes its way deeper into the South, you'll find that temperatures get warmer, people get more friendly, and time moves slower. It's a truly unique part of the country, and you don't have to go far off the highway to experience the small-town charm that makes it so great!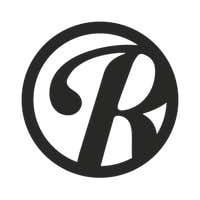 Roadtrippers helps you find the most epic destinations and detours—from roadside attractions to natural wonders and beyond.