If you've ever wanted to spend the night in a haunted house, wander a real-life necropolis, or snake your way through a mansion built under the direction of restless spirits, this Ghost Guide to San Francisco, California's most haunted places promises all that spooky fun and more.
Be warned: this is one trip you might need extra undies for.
Docked in Alameda Point, CA, the USS Hornet is perhaps the most important aircraft carrier in the history of space exploration, as it served as the recovery vessel for Apollo 11, the mission that put a man on the moon. It's also nicknamed "The Most Haunted Ship In History".
While the Hornet served diligently in WWII, its incredible importance to the space program is highlighted during your visit with the largest Apollo exhibit on the West Coast. Here you'll see an Apollo capsule recovered by the Hornet, the "Mobile Quarantine Facility" where Apollo 14 astronauts were kept to make sure they didn't have any space germs, and even the recovery helicopter used in the movie Apollo 13.
But when the lights go down inside the ship, and after the museum staff have wrapped up for the night, paranormal investigators, both professional and amateur, insist that the spirits of over 300 people who have died on the USS Hornet come out of hiding.
Take the flashlight tour of the off-limits areas for an extra-spooky look at the historical aircraft carrier.
One of the oldest hotels in San Jose, The Sainte Claire is known for having a rather unique ghost: a bridezilla.
As the story goes, back in the 1930s a woman named Julia was preparing to be married in the hotel's Palm Room, but her husband-to-be never showed up. Distraught at the idea of being left at the altar, Julia tearfully fled down to the basement where she committed suicide.
Today, guests report hearing Julia's high heels as they quickly run from the Palm Room to the basement, which is extra weird considering that all the floors in the Sainte Claire have been carpeted for years...
No spooky ghost adventure is complete without a trip to a haunted graveyard, and Hayward, California's Lone Tree Cemetery fits the bill.
Witnesses have reported encounters with "shadow imps" that dart in and our of the bushes, cemetery artifacts that move on their own, mysterious orbs of light, and lots of strange photographic anomalies.
Be sure to keep your eyes open for the giant memorial made to resemble praying hands. Close inspection will reveal some creepy carvings at the base.
Waterdog Lake is a beautiful place for a day hike or a picnic, but thanks to its tragic backstory, it's now considered one of California's most haunted places.
Years ago, a young boy was walking along the lake and found himself separated from his family. He never made it back. The boy's body was found by hikers a few days later, and his murderer quickly convicted and sent to prison.
Today, visitors to Waterdog Lake claim they still see the boy walking near the waters, often crying by himself.
The Blue Lady is the ghost that haunts the 1927-era Moss Beach Distillery. Allegedly, the woman was meeting her lover for a tryst at one of the many area bed and breakfasts, when she was killed in a car accident. Her distraught lover then killed himself. How romantic!
Since the incident, Moss Beach Distillery has been host to all kinds of strange activity, including mysterious phone calls from nowhere and staff being locked out of certain rooms, and women regularly reporting a single missing earring - only to for staff to discover a single pile of each missing piece of jewelry appear days later. Perhaps the weirdest of all: multiple people have watched tableware actually levitate here.
The Queen Anne Hotel is a Victorian Bed & Breakfast that used to be a girl's finishing school, and legend has it that the headmistress is still looming around, often showing up in mirrors (yeah, that's fun to think about when you wake up to go to the bathroom in the middle of the night).
If you're brave, I recommend staying in Room 410, the Miss Mary Lake Suite, where guests have a tough time catching a wink with all the paranormal activity that occurs.
Colma, California in San Mateo County was founded as a necropolis in 1924. Yes, NECROPOLIS, meaning "City of the Dead." Here at the City of Souls, the dead outnumber the living by a thousand to one. San Francisco evicted their interred in the early 1900s to make room for higher property values. And, I mean, in essence, they outsourced their dead. The City of Souls is believed to be home to over 2 million souls... many of whom are pretty darn restless.
In 2012, ghost hunters conducted an official paranormal investigation in Colma's "City of the Dead", capturing disembodied voices on their recorders, photographing strange anomalies, and concluding that, yes, this place is haunted as heck.
Notable ghosts roaming the necropolis include newspaper tycoon William Randolph Hearst, legendary lawman Wyatt Earp, Abigail Folger (heiress to the Folger's coffee fortune, and victim of Charles Manson) and the inventor of denim jeans, Levi Strauss.
Looking at the abandoned ruins of the Sutro Baths outside San Francisco, it's almost impossible to comprehend that they were once part of the world's largest indoor swimming establishment, boasting 7 massive pools, a huge museum, an amphitheater, hundreds of private dressing rooms and even, for a short time, an ice skating rink. It could hold, according to one estimate, up to ten thousand happy bathers. Now, only a few stone walls and pillars remain of what was once one of San Francisco's most opulent attractions.
But no matter how grand and opulent something is, it's totally useless if it's not profitable. The Baths always struggled to make ends meet, especially with rigorous upkeep of the pools and pump system. Sutro's grandson sold the Baths to a man named George Whitney in 1952, and Whitney eventually shut it down for good in 1966. Shortly after, the structure mysteriously caught fire. The ruins remained abandoned until 1980, when the National Parks Service saved the land from being developed.
Nowadays you can visit what little remains of the huge glass structure. Although it's nothing compared to what it once was, the misty (and mysterious) beach is absolutely stunning. Visitors can even explore the tunnel that once likely housed the pump-- but be warned; there are rumors that souls have been sacrificed inside, and bringing a lit candle into the tunnel at night will summon them. Despite the total and complete creepiness of that legend, the view from within the tunnel, especially when the waves roll right up to the edge, can't be beat.
If all of your ghost hunting has worked up an appetite, head to Gay Nineties Pizza Co. in Pleasanton, where you can grab a slice while searching for evidence of the afterlife.
Long before it was a pizza joint, the building that houses Gay Nineties was everything from a stagecoach stop to a general store to a bar, and at one time, it was even a brothel. In fact, it's widely believed that the restaurant's resident ghost is none other than the brothel's former madam.
Diners regularly report run-ins with a "full-figured ghost lady" who has a tendency to appear in the building's second story windows, dressed in classic saloon dancer regalia, complete with a fluffy feather boa wrapped around her neck.
Most haunted bed and breakfasts will try to entice ghost geeks with the promise of a haunting encounter with a resident spirit, but at the Nob Hill Inn, you can spend the night with not just one ghost, but twenty-two of them.
Built in 1907, the Nob Hill Inn has been painstakingly restored to its original splendor, maintaining a look that harkens back to the golden age of San Francisco. With twenty-one guest rooms furnished with original antiques, you'll probably wake up wondering how you traveled back in time. Maybe that's why so many spirits have decided to stick around..
Don't worry, though, the spirits here are all friendly, and visitors say that they like to play pranks. Don't be surprised if your lights flicker, doors lock, and you lose a few socks to the playful phantoms.
Tucked away inside Golden Gate Park, Stow Lake is a gorgeous little piece of San Francisco with a spooky legend that's been giving locals the willies for well over a century.
As the legend goes, an inattentive mother once allowed her child's stroller to roll away while chatting with a friend, only to look up and discover that her baby had disappeared. When she realized what she had done, she dove into the lake to rescue her child. Neither were seen again.
For the last 100 years, many who've visited Stow Lake after dark have claimed to meet a woman in soaking wet clothing, her tearful voice asking, "Have you seen my baby?" The tale has even taken on it's own form of the Bloody Mary legend, with local kids daring one another to say "White Lady, White Lady, I have your baby" three times in order to summon the restless spirit.
Just south of San Francisco, in San Jose, is a mansion of epic proportions with such a strange design and such a fascinating history that it has become one of the most-toured homes in the country: the Winchester Mystery House.
For history buffs and gun enthusiasts, the name Winchester is forever linked to the Winchester rifle, the "Gun that won the West". That nickname may have had hauntingly grim consequences for some of the Winchesters, namely Mrs. Sarah L. Winchester, wife of William Wirt Winchester.
After losing an infant daughter and her husband to tuberculosis, Sarah Winchester supposedly approached a spiritualist who told her the tragic misfortunes of her life were due to spirits of those cut down by the Winchester rifle, particularly Native Americans, haunting her family. To appease them, the psychic said, Mrs. Winchester needed to move west and build a massive house for them. As long as she kept building the home, she'd be safe.
Long story short, she did exactly as the medium suggested, building onto her home around the clock for the rest of her life. The end result is one of the most bizarrely constructed mansions in the world, with doors to nowhere, stairs into the ceiling, and all sorts of weird superstitious features. But the bad news? It appears that none of the crazy designs worked. The Winchester Mystery House is still plagued by sightings of restless spirits.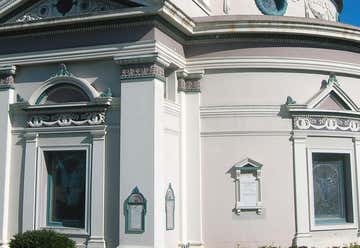 Neptune Society Columbarium, 1 Loraine Ct, San Francisco, CA, San Francisco, CA, US
Once part of the nearby Odd Fellows Cemetery, the Neptune Society's Columbarium is a stunning display of neo-classical architecture that remains the very last non-denominational resting place within the city limits.
While the Columbarium is worth a visit to see the ornately decorated walls, colorful stained glass windows, and thousands of niches contained inside, you might find yourself walking out of the big copper dome a believer in the afterlife.
Ghost sightings occur so often here that the caretakers simply shrug and accept them as part of the gig. One of the most famous encounters deals with a woman who felt a ghostly hand on her back, only to whip around and find no one there. Later, she discovered an eerie handprint made of white dust on her blouse. Spooky.
The Columbarium is open to the public, but donations towards its upkeep are encouraged, so cough it up unless you want to anger the spirits.
Since 1907, Cafe du Nord has been a staple of San Francisco's nightlife, providing delicious food, stiff drinks, and fantastic live music to generations of visitors, but it would appear that some of them never left.
The ghostly "Piano Man" is said to skulk around the Swedish Hall, sitting in the dark lobby lounge or even playing a tune on the stage piano. Other guests have spotted the "Lady in Red", a spirit that lingers in the Café late at night, guarding the entrance to the old speakeasy tunnel.
Cafe du Nord is also a perfect place for a ghost hunter to grab a bite - they serve food until 1AM!
Off-limits to the public for many years, Alcatraz is now one of the most popular tourist destinations in San Francisco, particularly when it comes to those interested in the things that go bump in the night. Reports of disembodied whispers, mysterious cold spots, and apparitions of everyone from Al Capone to mysterious glowing-eyed inmates have brought paranormal investigators, both amateur and professional, to the island in droves, even prompting SyFy's Ghost Hunters to film an episode at The Rock.
The park's official stance, however, is that the island isn't haunted. They explain their position on the FAQ section of their ferry service website:
"Spiritualists and people who want to believe in ghosts often claim to pick up haunted auras and ghostly feelings when visiting Alcatraz. However, there are no authenticated cases of ghost sightings by any of Alcatraz's residents over the years, whether they were soldiers, prisoners, correctional officers, family members or park rangers."
Sounds like a challenge, doesn't it?
Whether you decide to bed down with the spirits in the Nob Hill Inn, eat pizza with the ghosts of Gay Nineties, or summon the phantoms of the Sutro Baths, San Francisco is full of spooky fun, no matter what part of town you find yourself in. Good thing you have this Ghost Guide will help point the way! Just don't blame us if you need an exorcism after your trip. Happy hauntings!
Seeking the strange and the unexplained all over North America and beyond. Buckle up as Planet Weird takes you on the country's spookiest paranormal adventures.